Welcome to Photoarchive3D.org


Photoarchive 3D is a digitized archive of original stereographic 19th and early 20th century historical images.  When viewed by a single person looking through a binocular stereoscope, these reconstructed a scene in three dimensions, complete with depth, creating a "Victorian virtual reality."  Only a fraction of the millions of views produced have survived, and we here present a sampling of the broad range of available subjects including exotic locations, people of the world, historic events, and material aspects of life 100-150 years ago. 
---


Life in 4D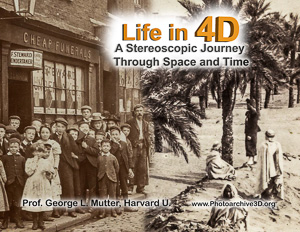 Life in 4D. will immerse you in a series of exotic and unfamiliar situations, thematically organized to emphasise common human experiences of beauty, community, danger, amusement, and innovation during the last 150 years of the photographic era.  Come on a journey through time and space to see how much we are alike despite social, environmental, and technological differences.  Freshly digitized from the absolute best of 25,000 original 19th and 20th century stereophotographs in the vaults at Photoarchive3D, these images are projected for viewing in three dimensions as originally intended. Details to be Announced.
New England Museum Association. Cambridge, MA
"Digitization, Documentation and 3-D Presentation of Historic New England Stereoviews." Vintage stereoviews are original 3-dimensional photographs created during the last 150 years.  3D digital rendering has added value in permitting display of these historic virtual environments to audiences using routine projection equipment.  We review principles and workflow of digitizing 28,000 stereoviews for the dual purpose of  object documentation, and 3D projection.  Striking examples from around the world will be shown, followed by a thematic presentation of images from New England.   November 19-21, 2014. 3D glasses provided!
---
---